Since the outbreak of COVID-19 in late 2019, the demand for personal protective equipment, like disposable face masks, N95 masks and gloves, has skyrocketed. To meet growing demand, medical mask manufacturers had to ramp up their production and in some cases even upgrade their manufacturing facilities and building technologies.
While wearing face masks has become more commonplace post-COVID-19, it's worth knowing how medical and surgical procedure masks are manufactured to meet performance requirements.
Face mask production process
Most surgical or medical-grade face masks are made of several layers of high-performance materials that are designed to protect the wearer against fluid splash and exposure to viruses. They're often made from non-woven materials, like polypropylene polymers, polyester, polycarbonate or polyethylene, which help to provide adequate protection and breathability.
There are two main ways to manufacture the advanced materials needed for the production of face masks, the meltblown method and the spunbond process. At Detmold Medical, we use both of these techniques to produce different filtration layers throughout our range of quality face masks.
Meltblow method: One of the most popular methods for manufacturing medical-grade face masks is using meltblown technology. During this process, molten plastic is run through a conveyor belt with small holes that pump hot air into the melted material. This turns the plastic into tiny fibres that bind together as they cool to create a durable fabric with high-quality filtration properties.
Spunbond method: Another common method used by face mask manufacturers is the spunbond method. This technique involves melting the plastic materials and applying pressure to expand the materials before leaving them to cool. This process helps to create stronger bonds and enhanced bacterial protection.
These materials are then layered, bonded and pleated with ties or elastic to produce finished surgical masks.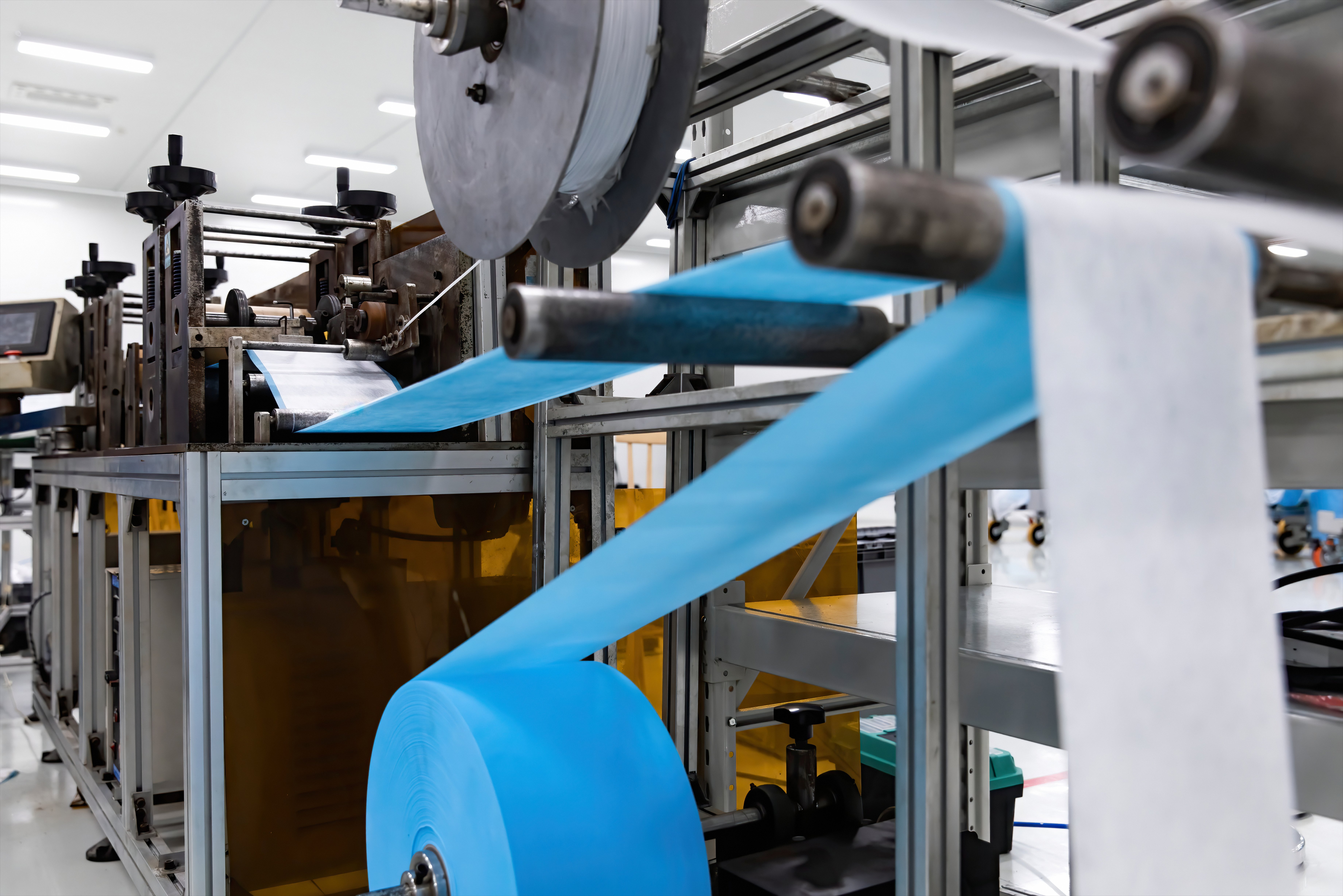 Testing for medical supplies
In Australia, medical-grade face masks and respirators that make medical or health claims must be manufactured in line with Australian standards or relevant international standards. Further to this, personal protective equipment (PPE), including face masks, face shields, gowns and gloves, that are intended to be used to prevent the spread of disease is considered a medical device and must be included on the Australian Register of Therapeutic Goods (ARTG) before being supplied in Australia.
These standards and regulations are in place not only to ensure worker safety in a high-risk environment but also to provide manufacturers with the information they need to produce surgical face masks and medical PPE in line with regulatory requirements. To meet the Australian and international standards and TGA regulations, medical supplies, including face masks, must undergo both raw material testing and finished goods testing to ensure the masks provide adequate protection and for quality control purposes.
At Detmold Medical, we're able to test our medical supplies on-site at our in-house laboratory. Prior to the COVID-19 pandemic, Australia didn't have the technology or resources to conduct performance testing onshore, so all medical and surgical masks had to be sent overseas. We've since developed our own testing facilities through collaboration with CSIRO, Flinders University and the Australian Government, which allows us to monitor the performance of the materials and finished goods.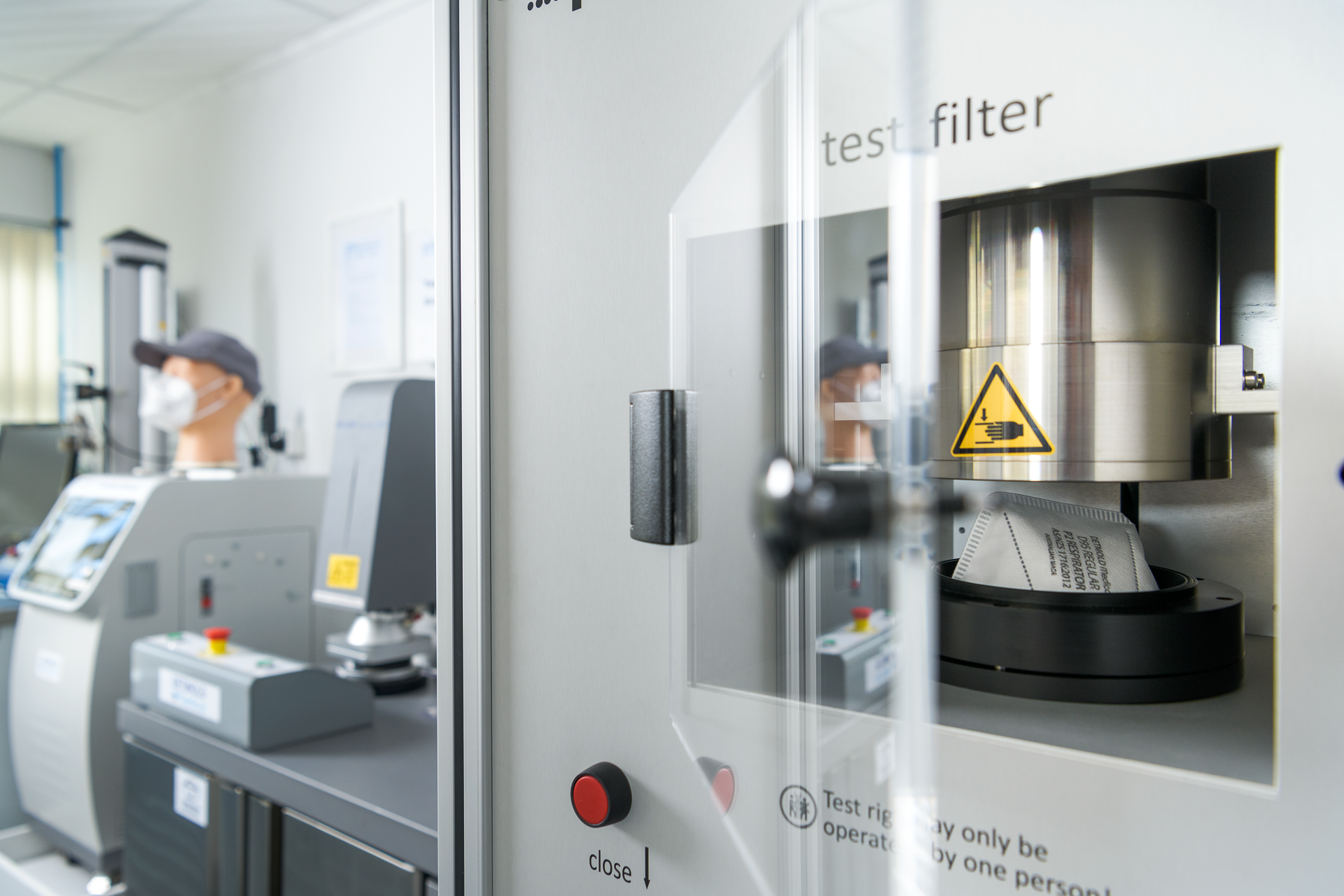 We developed our TGA-compliant manufacturing facility with the intention of protecting our end consumers, from healthcare professionals to other customers looking for surgical masks to wear in public places. At our industry-leading facility, we're able to conduct a number of tests to validate the quality of our masks, including:
Synthetic Blood Penetration

testing allows us to assess how well the mask protects the wearer against blood-borne pathogens,

Bacterial Filtration Efficiency (BFE)

testing is used to assess whether biological organisms can penetrate the filtration fabrics used in the mask, and

Pressure Differential

testing allows us to determine the breathability of a mask to ensure comfort.
Detmold Medical is the Southern Hemisphere's largest manufacturer of high-quality respirators and face masks. From providing surgical face masks for frontline healthcare workers to disposable face masks for use in community settings, we manufacture a wide range of surgical masks and respirators. To find the best face mask for your needs, visit our comparison page.