In the Healthcare Industry in particular, the disposal of single-use medical masks has always been a burden on the environment and since the COVID pandemic, face masks have become a standard part of everyday life. Whilst medical masks play a key role in protecting individuals against viral and bacterial transmission, they also have a significant impact on the environment.
Although it's important to dispose of used face masks correctly, several new initiatives have been introduced to recycle face masks and keep them from ending up as waste in landfills.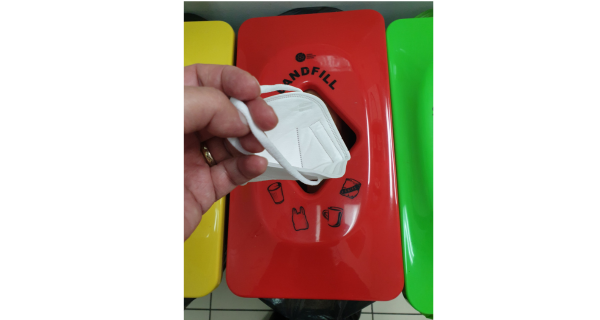 How disposable face masks impact the environment.
In the aftermath of the pandemic, recent research estimated that roughly 3.4 billion single-use face masks are disposed of each day around the world. This is an issue that's also affecting Australia. According to the team at Clean Up Australia, many volunteers at the 2022 Clean Up Australia Day events across the country noted an increase in COVID-related items, including surgical face masks, in the environment.
Disposable face masks are made from plastics, including polypropylene polymers, polyester, polycarbonate or polyethylene, which can take hundreds of years to break down. As these materials disintegrate, they break into microplastics, which can have a devastating effect on wildlife.
So, how can we stop single-use face masks from going to waste? It turns out that recycling might just be the answer.
Recycling disposable face masks
From art installations to reusable medical equipment and even developing building rubble to make roads, it seems that face masks can do more than just protect wearers from viruses and diseases. In Australia alone, there are a number of different projects and initiatives that are turning single-use masks into recyclable materials. Here are some of the ways masks are being reused.
The Up-Masking Project
The Up-Masking Project was an initiative of the Greater Cities Commission (GCC) and the UNSW Sustainable Materials Research and Technology (SmaRT) Centre in partnership with the Sydney Children's Hospitals Network and Western Sydney Local Health District. This pilot project intended to demonstrate the remanufacturing and decarbonisation potential of personal protective equipment, including face masks, before they end up as waste.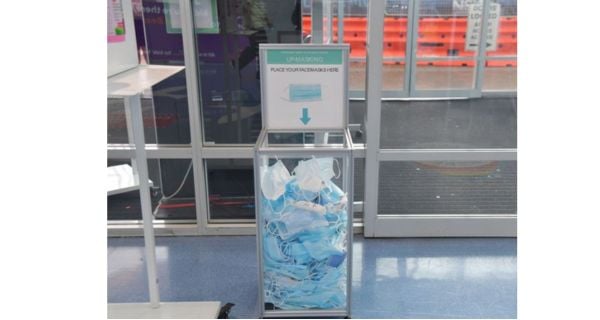 Mask-specific recycling bins were placed around the Westmead Health and Innovation Precinct and The Children's Hospital at Westmead. By using innovative technologies, the teams at UNSW's SMaRT Centre managed to recycle face masks to make antimicrobial tiles. It's hoped that these tiles can eventually be used to make other items, like bowls and trays, for use in hospitals.
The TerraCycle Zero Waste Box™
TerraCycle has a collection of Zero Waste Boxes™ that can be used by everyone to recycle almost anything, including disposable face masks. The Masks - Zero Waste Box™ can be used to recycle non-woven disposable plastic-based face masks, including 3-ply surgical masks, dust masks, KN95 and N95 masks.
Masks collected using the Zero Waste Box™ system are sorted and processed into raw materials to be reused. Plastics are separated by number, melted down and turned into pellets that can be moulded and pressed to produce new products. The metal nose strips from surgical masks are separated by type and melted into metal bars for reuse.
New road-making material
Researchers at RMIT University have shown how surgical masks can be shredded and mixed with processed building rubble to create a new type of road-making material that meets civil engineering safety standards. Based on the findings from their study, it would take about 3 million masks to make one kilometre of double-land road. This alone would prevent roughly 93 tonnes of waste from ending up in landfill.

Image Source: www.sciencedirect.com
How to correctly dispose of surgical masks
Unfortunately, mask recycling programs aren't available to everyone, so it's important to make sure you still dispose of single-use masks correctly by putting them in the general waste bin, rather than the curbside recycling bin. Tossing them into the recycling bin can contaminate the other items and even clog the sorting machines at recycling centres.
When removing your face mask, it's essential to avoid touching the front of the mask. Instead, remove the mask using the ear loops. Before disposing of your mask, be sure to cut the ear loops to ensure wildlife doesn't get tangled or injured. Then place your mask in the general waste bin.
Always wash your hands with soap and water or an alcohol-based hand sanitiser (made up of over 60% alcohol or 70% isopropanol) before and after handling your face mask.
Detmold Group's sustainability objectives
At Detmold Medical, we're committed to making a positive impact for a better tomorrow. As part of this commitment, we're taking proactive measures to make our operations more sustainable with three key objectives:
Preserve natural resources by adopting sustainable packaging guidelines,
Keep waste out of nature by diverting waste from landfills across all of our production facilities, and
Reduce greenhouse gas emissions by converting our facilities to renewable energy sources.
By introducing sustainable packaging guidelines, reducing emissions, adopting renewable energy and converting to forestry-certified or recycled fibres, we hope to benefit our clients and the planet.
In addition to our three core sustainability objectives, the Detmold Group is also working towards six positive impact targets that we've set out to achieve by 2025. These include:
100% of products with Sustainable Packaging Guidelines applied,
95% of waste is diverted from landfills across all production facilities,
30% reduction in Scope 1 & 2 emissions per kg of product,
80% of fibre to be forestry-certified or contains recycled content, with no controversial sourced fibre,
100% of stock range that meets Towards 2025 Targets, and
Three facilities use renewable energy.
These objectives help Detmold Group customers and distributor partners in becoming Australian Packaging Covenant Organisation (APCO) compliant. In fact, two of the six targets directly align with the wider APCO targets.
At Detmold Medical, we're taking proactive steps towards a more sustainable future. To support a family-owned and operated business, you can shop from our great range of face masks and respirators online. Not sure which mask best suits your needs? Use our face mask comparator to explore the benefits, features and uses of our range. When you buy from Detmold Medical, you're not only supporting Australian-made products, but you're also supporting us to create a better tomorrow.